Stratton Hall 1794
The farm is located on a bend of the Raccoon Creek in Woolwich Township, Gloucester County, New Jersey. The Raccoon is a navigable tidal tributary of the Delaware River and is noted for its large wild rice stands.  The creek and its forested uplands support a variety of water birds, neotropical song birds, hawks, eagles, fox, turkey, deer, turtles, and many other species.
The farm house, Stratton Hall, is listed on the National and State Registers of Historic Places.  Locally known as the Stratton Mansion,  it is a three story brick dwelling built in a blend of Georgian and Federal styles. It was completed in 1794.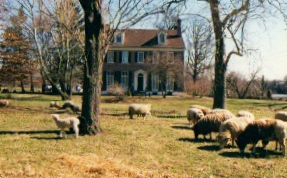 Since 1997 the farm has been home to a variety of rare livestock breeds. Breeds on the farm include Jacob, Horned Dorset, and Leicester Longwool sheep, Dominique chickens, and Indian Runner Ducks.
The mission of Stratton Hall 1794 is to conserve, preserve, and educate. It is dedicated to the conservation and preservation of its rare breeds of livestock, the 18th century farm house, and the ecosystem of tidal marsh and uplands of which the farm is a part. It is also dedicated to educating the public about the production of local food and fiber and about the history of the farm and its surrounding community. We farm history!
Copyright 2013 – 2017 by Stratton Hall 1794 LLC. All rights reserved.
Hosted by bluehost