James Stratton (1755-1812) made his first purchase of land on which he would build Stratton Hall during George Washington's first administration. His grand mansion was built during Washington's second administration, in the first decade of the American Republic.
James Stratton was descended from Puritan immigrants from England who settled in New England and then relocated to Long Island, New York. Stratton's father, Benjamin, relocated to Fairfield, in what was then known as West Jersey. Stratton, the youngest of three children, studied to be a doctor, began a practice in Clarksboro, and then served in the Revolutionary War. When he returned, he began assembling tracts of land near Swedesboro on which he would build his house which was completed in 1794. He had a successful practice and also served as a circuit judge. He married twice. His first wife died at a young age.  One of the children from his second marriage was Charles Creighton Stratton (1796-1859) who trained as a lawyer and served a term as a U. S. Congressman from New Jersey. He also was the state's first governor to be popularly elected by the people. He is the only person from  Gloucester County to have served as governor.
The property left the ownership of the Stratton family in 1869 when James D. Gibbs, a Philadelphia businessman, purchased it for use as a summer retreat for his family. The Gibbses made several Victorian modifications to the building, including  the construction of a covered verandah which has since been removed, and the replacement of the original front windows with tall French doors that would have opened onto the verandah. The property changed hands several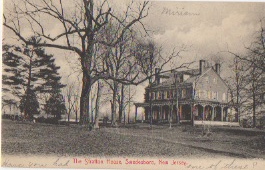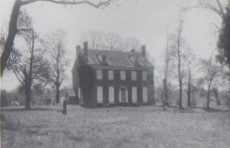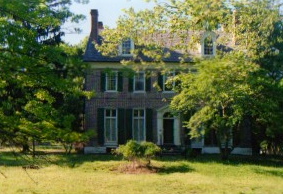 times after Charles, a son of James Gibbs, died in the 1930s. We purchased the property in 1984.
Stratton Hall is a blend of Federal and Georgian styles of architecture. It is a brick structure built on a fieldstone foundation. The north facade features a decorative pattern of glazed header bricks.  The Georgian elements include the house's typically Georgian center hall plan. The Federal elements include its front door framed with columns and pediments topped with an arched fanlight window, slender arched dormer windows with beautifully carved moldings, delicately carved fireplace surrounds and mantels, ceiling medallions and crown moldings. The structure retains many other original features such as original windows, doors, hard-wood floors, and plaster walls.
Copyright 2013 – 2017 by Stratton Hall 1794 LLC. All rights reserved.